| | | |
| --- | --- | --- |
| Call | 21.14% | +2.1 |
| Fold | 35.22% | 0.0 |
| Raise to 2.0 | 2.26% | +2.1 |
| Raise to 2.5 | 19.92% | +2.1 |
| All in | 21.46% | +1.7 |
Over 10 Years of GTO Experience in the Single App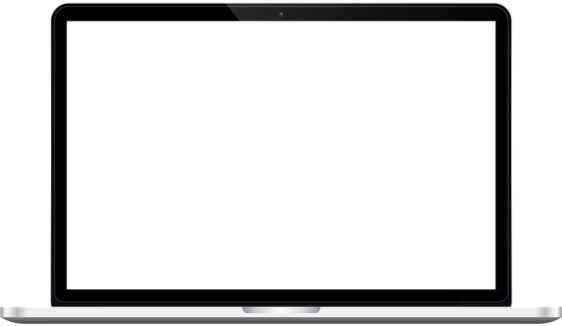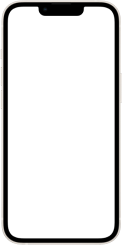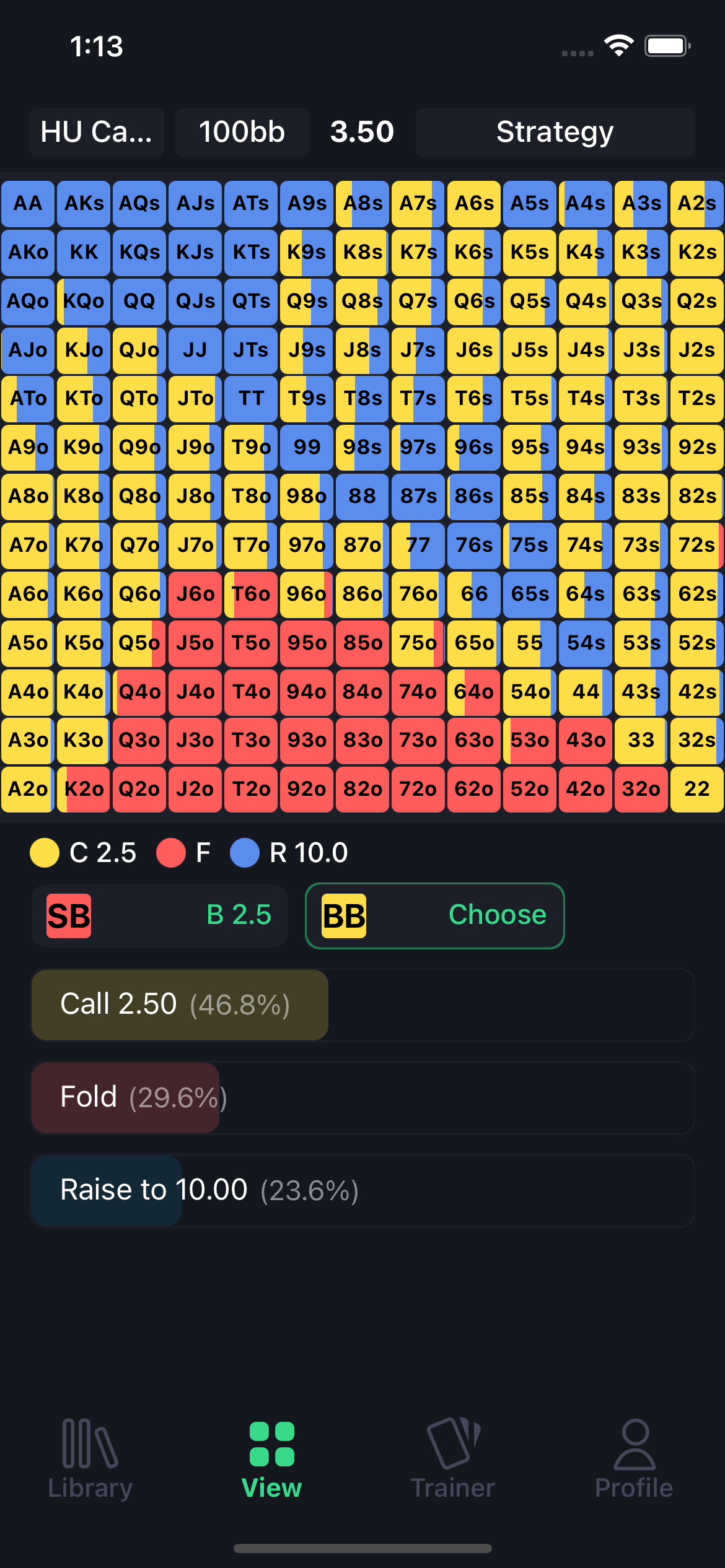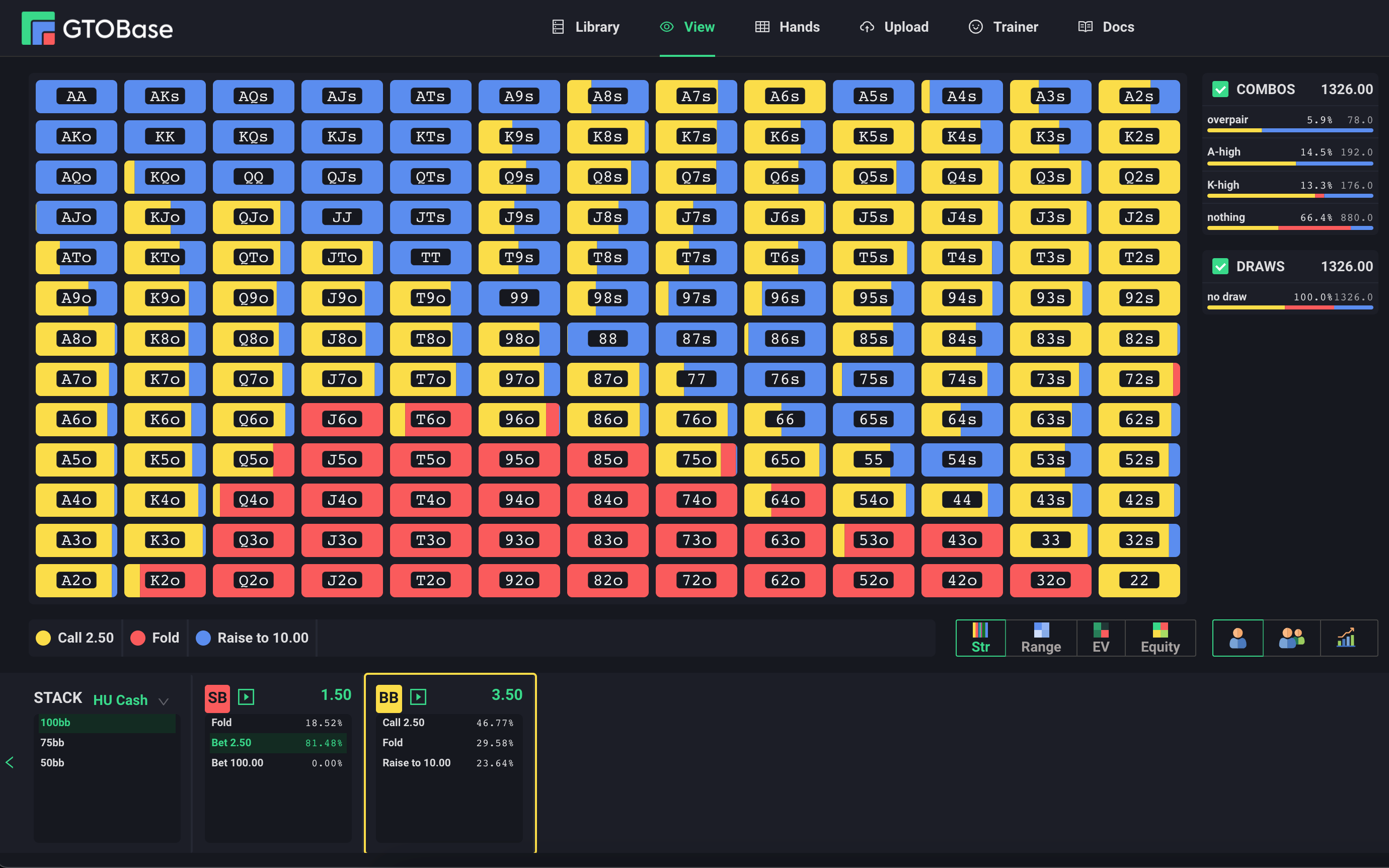 One account — two apps GTO in your pocket
Use the ultimate power of GTOBase on your laptop. Enjoy the lightweight GTOBase mobile app on the go.
View
Explore extremely accurate GTO solutions
Learn GTO strategy for spots you are interested in. GTOBase includes solutions for almost all poker disciplines.
Explore GTO strategies using various data representations, different view modes, aggregated and graph reports.
All 22,100 flops are solved for any spot so you can easily switch between effective stacks, positions, actions and boards. Individual settings for displaying action colors and bet sizes are also available.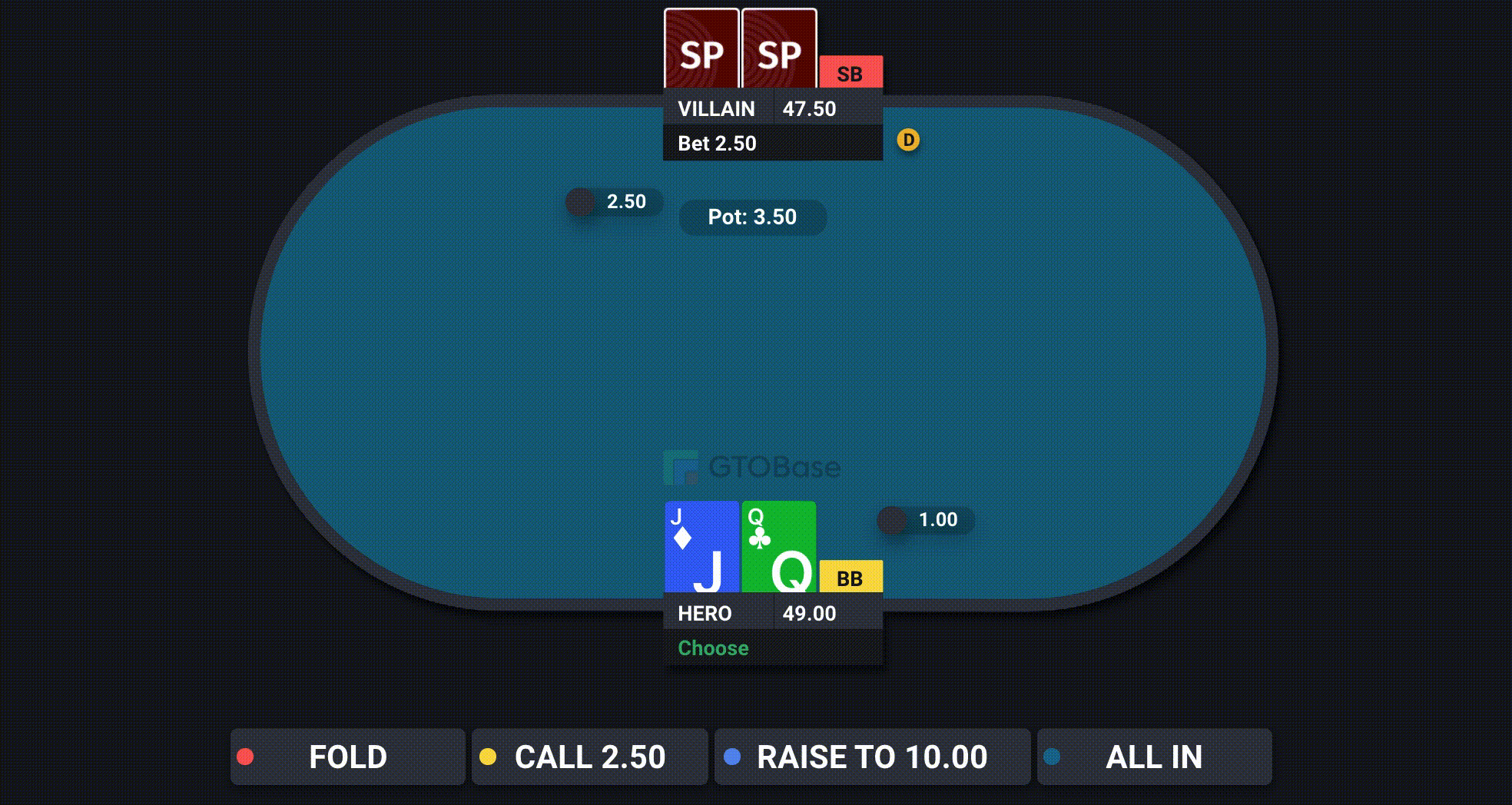 Trainer
Study GTO by playing poker
GTOBase provides a flexible training system. The tool is designed to bring you easy-to-use trainings for all libraries in the app. GTO Trainer includes several modes that will allow to hone the strategy in all aspects.
Actions of the interactive training process are analyzed in real-time and the app provides detailed information about mistakes. All opponents in the Trainer play according to optimal strategies, learn to play against the best.
Hands
Find leaks in your game
Upload hand history from your sessions and compare your actions vs GTO by using purpose-built reports that help to identify both your and your opponents' leaks so you can maximize your EV.
The processing speed of GTOBase servers allows to process one hand in 0.2ms (>300 hands/min) so you can analyze hands after each gaming session in a few minutes.
Spots/Prices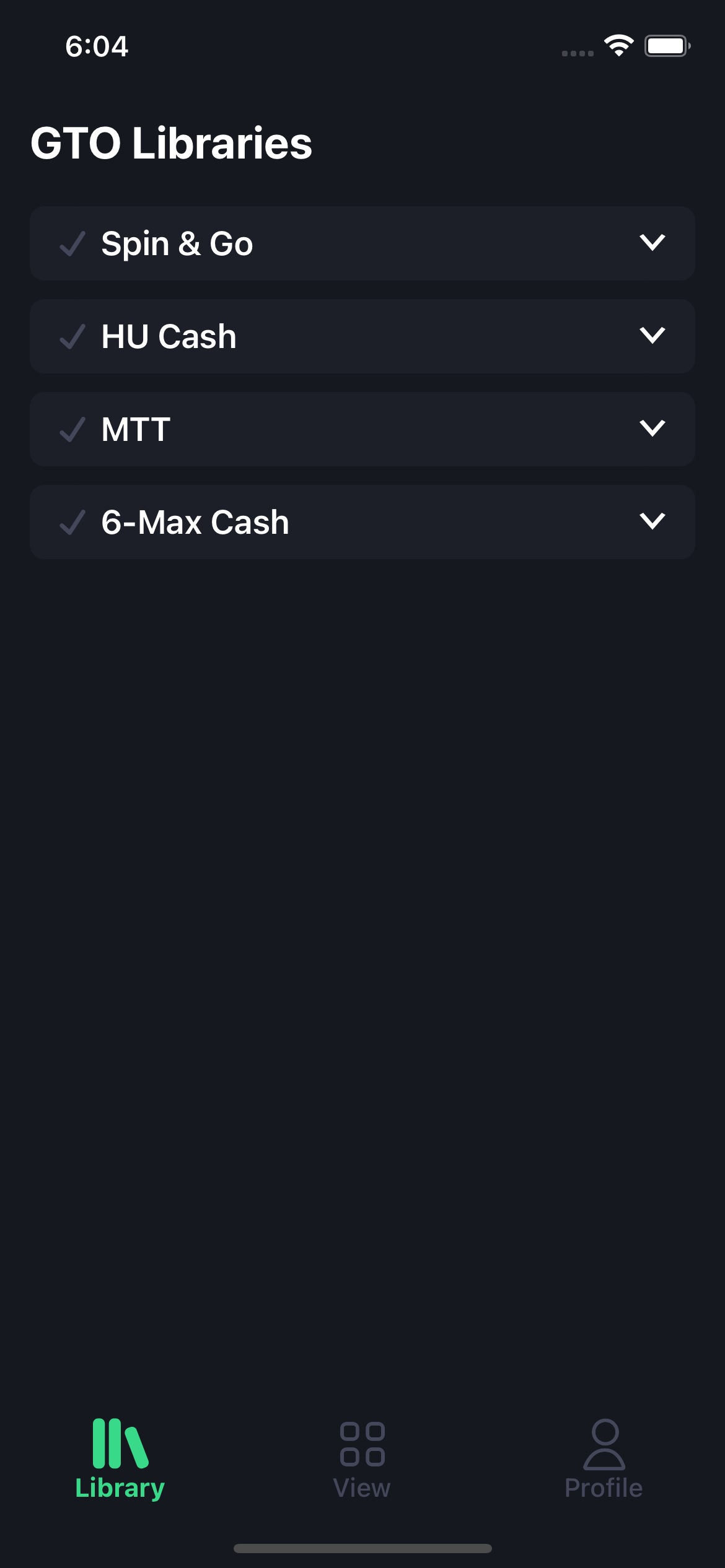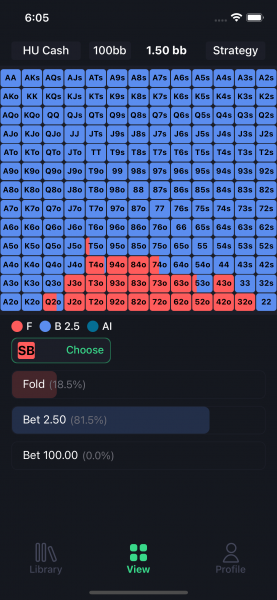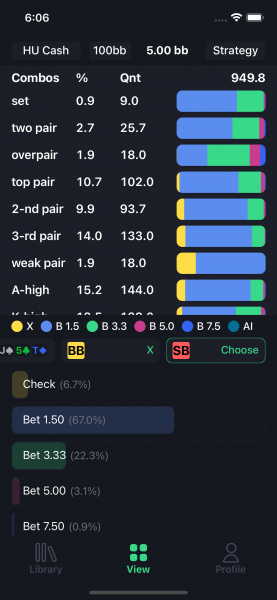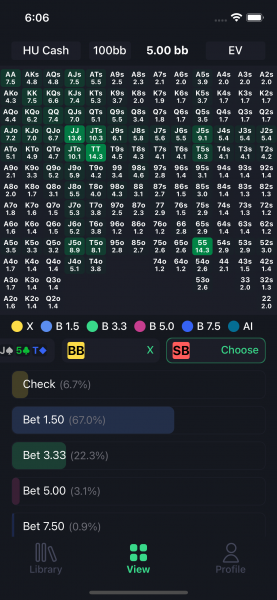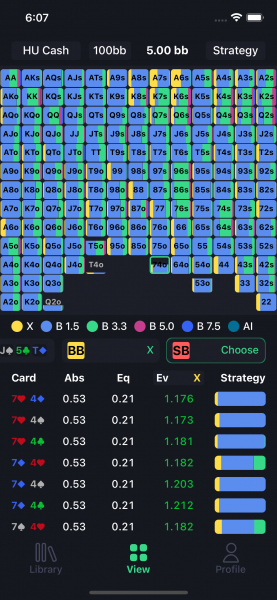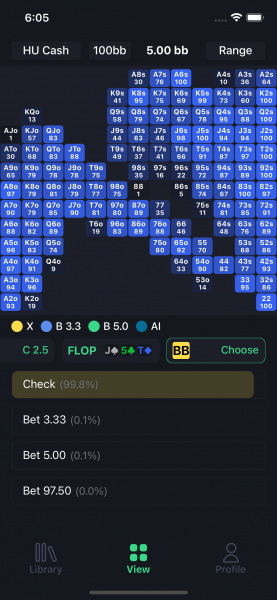 Unrivaled accurate
Extremely fast
Stunning experience
Delivered by PROs
Reviews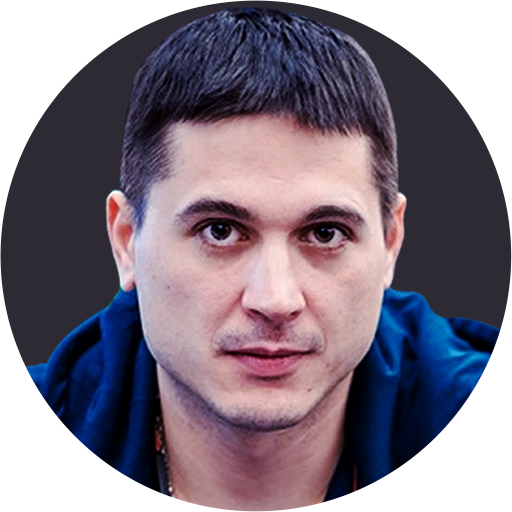 SVschool Founder
"GTOBase is a resource I use almost on a daily basis. It's a great tool for quickly finding preflop equilibrium solutions and ranges."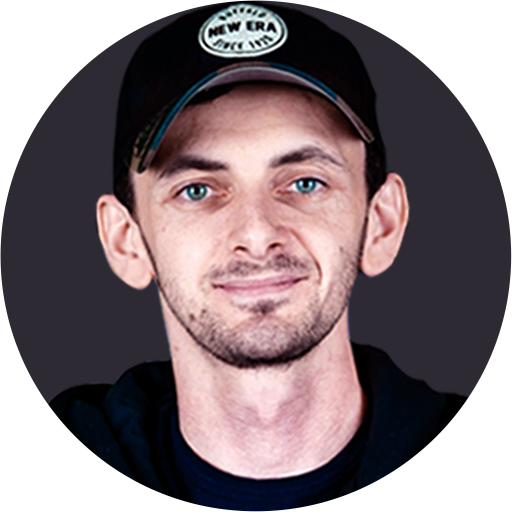 MTT Expert
"GTOBase is one of the best game development services to hit the market in recent times. With it, the convenience and speed of extracting information and getting answers to questions have increased many times over, which makes the learning process itself much more comfortable and enjoyable. GTOBase is the modern Aladdin lamp in the poker world :)"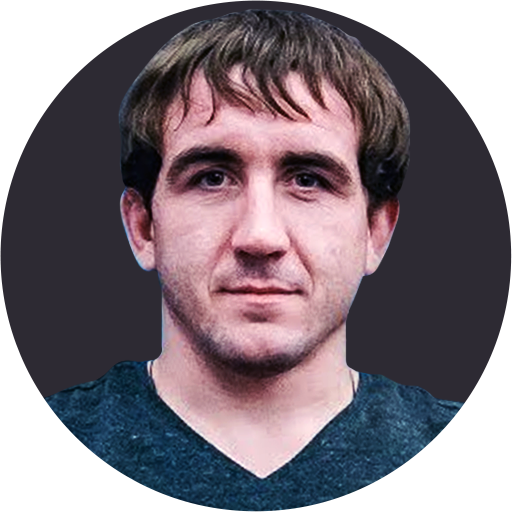 Spin&Go Coach and Player
"Very smart analyzer of loaded hands. Nowhere have I seen a faster one with such high-quality calculations. Maximum user friendly application both in terms of interface and updates. Just think of a feature.. Wow.. and it's already implemented. Definitely great team work."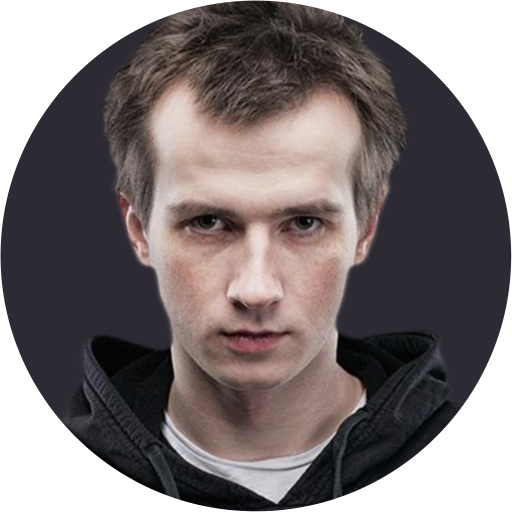 MTT Coach and Player
"GTOBase is the best software for finding GTO-oriented RTAs and bots. The ΔEV parameter shows the similarity of the player's strategy with the optimal one and highlights those who do not make mistakes. A real revolution in the fight for the fairness of the game."